If you are unsure if what you are experiencing is a result of toenail fungus, please click HERE to review the symptoms.
But… if you are pretty sure that what you have IS actually toenail fungus, the next question then becomes…
---
Why Should I Treat this Disgusting Problem?
If you don't treat toenail fungus, can it cause other problems? Are there really toenail fungus complications?
"Can toenail fungus cause other problems?" you ask… The short answer is YES… it can!!!
Aside from the unsightly appearance of a fungal toenail and other, merely cosmetic concerns, if left untreated, this condition can spiral out of control and potentially cause other health concerns that we call toenail fungus complications.
This is why early treatment is key! You need to prevent the potential complications of toenail fungus!!!

Don't let this embarrassing problem get this bad…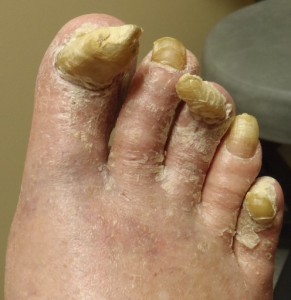 There ARE dangers of ignoring this seemingly minute condition!!!
---
What are the Complications of Toenail Fungus?
Some of the potential complications of "letting a toenail fungus go" without implementing any form of treatment is not limited to, but can include the following:
Increased pain with potential difficulty walking (Can toenail fungus cause pain?… ABSOLUTELY!!)
Spread of fungus to other toenails and/or foot and/or other body parts (Learn more about Athlete's Foot by clicking HERE!)
Permanent damage to your nail
Permanent loss of the affected nail
Bacterial infections that can spread to other areas of the body and/or bloodstream (cellulitis) requiring oral antibiotics and/or amputation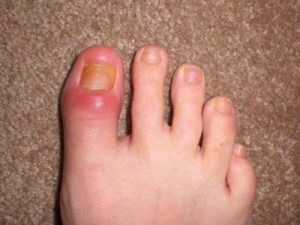 In individuals with co-existing conditions such as Diabetes, a weakened immune system, or decreased blood circulation there is even a greater risk of these complications occurring. Click HERE to read about a product that is hands-down the BEST product to help increase circulation to your feet!
---
Avoid the Complications of Toenail Fungus – Treat Early
I recommend that if you have a co-existing conditions and believe that you have a toenail fungus to see your doctor for a personalized treatment plan due to the fact that even a nail fungus, which is a relatively minor injury/condition, can quickly advance to more serious complications.
There are so many treatment options available that it is silly to allow this simple disease to progress to the level where complications can occur.
As a podiatrist, I can help direct you to the treatments that really work and even show you how to prevent this condition from recurring once you have successfully treated it
But… you MUST treat it! Don't let your toenail fungus get to the point where complications begin to occur!
There are currently THREE amazing products that I routinely recommend to my patients to treat this unsightly disorder! All three of these products REALLY work… you just have to decide the method of treatment that you prefer and DO IT!

---
Go to next Section: Treatment Options for Toenail Fungus!
---