Are you confident that what you have is toenail fungus? Are your toenails thick and/or yellow and you want to know why?
My goal here is to talk about what toenail fungus actually looks like and to review the symptoms of toenail fungus in an attempt to aid you in your self-diagnosis so that you can get on to what's really important…TREATING YOUR TOENAIL FUNGUS!!!
For a quick look at the risk factors for toenail fungus OR help in determining who gets toenail fungus, click the link below.

Let's get started…
---
Why Are My Toenails Thickening?
Toenail fungus, or onychomycosis, is usually pretty hard to misdiagnose as the symptoms of toenail fungus are pretty straight-forward.
In fact, most of my patient's usually come to the office and tell ME that they have toenail fungus!
Many have asked around or googled things like, "Why are my toenails thickening?", "What is wrong with my toenails?" or "Why are my toenails yellow?" and can quickly get their answer on the online platform!
If you don't have a history of psoriasis, lichen planus or a history of trauma to the nail by a heavy object falling on the nail bed AND you are wondering why your toenails get thick, odds are you are experiencing the symptoms of toenail fungus.
On to the actual symptoms…
---
Toenail Fungus Symptoms
The appearance of a diseased toenail can vary based on the time elapsed since the fungal infection began. But, thankful for you, toenail fungus symptoms are pretty straight-forward!
Generally speaking,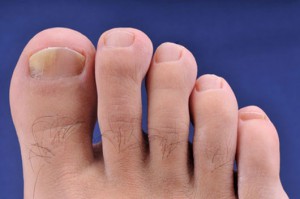 in the beginning stages of infection, one or more toenails typically have a discolored spot that appears within the toenail.
This "spot" can be yellow, brown, black or a multitude of colors in-between.
Usually, within this initial time span, no pain within the foot or toe is experienced and people usually are not interested in treating such a minute issue.
This is the reason that, in most cases, the diseased nail is allowed to progress past this point without treatment being implemented. This is NOT a good thing!
In both studies and in my own practice, I tend to see that treatment success is most efficient right here during this stage of the infection.
It is essential to stop the infection in it's tracks right here! Otherwise, you will be looking at a lot longer treatment period.

Without treatment, a slow, progressive change in the toenail's quality and color, which is often ugly and embarrassing, then begins to pursue.
As the condition progresses (which it will without treatment), the nail evolves.
This evolution over time includes thickening, spreading of the discoloration (yellow or brownish in color) and a brittle or crumbly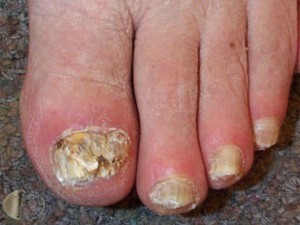 texture about the nail.
If the infected nail is left untreated long enough, increased thickening of the toenail will continue to progress.
When the nail advances to the point that it becomes excessively thick and crumbly, it can be difficult to cut or trim.
Many people allow the disease to progress to this point.
If you have allowed this progression, you may benefit from my post highlighting the proper way to trim thick toenails.
In these more long-term cases of toenail fungus, pain and discomfort begins to become an important factor.
This pain can be accentuated by the use of tight shoes or when you do get to the point where you decide you have to trim the nail yourself. OUCH!

Because of the increased thickness of the nail plate which lays on the nail bed (where the nail plate rests), the nail bed of the toenail can even become sore and inflamed. This is where most of the pain arises from.
Eventually, if the infection is left untreated long enough, the diseased nail can become a completely distorted, unrecognizable toenail and  the disease can spread to surrounding toenails and/or fingernails!!! GROSS!!!!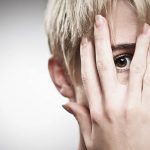 Once you reach these final stages of toenail fungus, usually, you are at a point where you are trying to hide your feet at all costs.
You become embarrassed and self-conscious that you allowed the condition to reach this level.
---
Other Symptoms of Toenail Fungus
Other, less common, symptoms can also present with fungal toenails.
Sometimes, scales with yellow patches will begin to form on the skin around the toenail.
Without treatment, a foul (or bad) odor may begin to occur.
In addition, in some patients, the fungal toenail begins to loosen or lift up and separate from the nail bed.
When this happens, we call this onycholysis and pain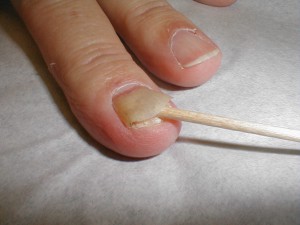 usually presents due to this condition.
Usually, when this occurs, you begin to feel your socks snagging on your socks when you are removing them.
Also, when this symptom arises, you are at increased risk of the nail catching on your sheets or socks and getting totally ripped from the nail bed.
Another symptom less commonly associated with toenail fungus includes the presence of dermatophytids.
Dermatophytids are fungus-free skin lesions that cause itchiness or rashes in an area on your body that is not infected by the fungus.
This phenomena is similar to an allergic reaction.
Lastly, you have to consider the wide array of complications that can result from not treating toenail fungus. Click HERE to continue reading about all of the possible complications of toenail fungus.
---

---
My Conclusion on the Symptoms of Toenail Fungus
In summary, what you are experiencing is most likely toenail fungus if one or more of your nails portray the following characteristics.
The most common toenail fungus symptoms include the following: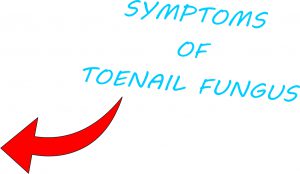 Dullness (Lack of Shine)
Increased Thickness
Brittleness or Raggedness and/or Crumbly
Increased Color Change (Yellow or Dark Color – usually caused by debris building up underneath the nail)
Now… all of this, especially the beginning stages, could be considered minor problems (although I have seen patient's adamant that this could ruin their lives, lol), but… think about the psychological harm that this condition can cause for our younger generation!
The nails appear very unpleasant and unsightly.
Also, should this infection spread to fingernails this embarrassment can increase exponentially as it is harder to hide fingernails!!!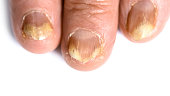 Thankfully, there are successful treatment regimens on the market today… you just have to be careful and choose products that you can trust!

---
Go to next section: Complications of Toenail Fungus
---