What is our most important mode of transportation? If you said our feet, then you were absolutely correct!
Our feet and their well-being, is critical to our livelihood and it is my job, as a practicing podiatrist, to keep them in tip-top shape.
Would you believe that heel pain (specifically heel pain related to a condition called Plantar Fasciitis) is one of the #1 complaints that I see in my adult patients?
So… what about Plantar Fasciitis makes it so common and painful?
I am here to tell you, ad nauseam, EVERYTHING that you could possibly want to know about this condition in simple, easy-to-understand terminology!
Quick note… If we are talking about a child suffering with heel pain, this is NOT where you want to be! I would recommend reading articles titled "Heel Pain in Kids – Everything You NEED to Know" or "Sever's Disease in Children – Is It Affecting Your Child's Game" for more information on heel pain in kids.
Back to what you came for… Plantar Fasciitis!
---
The Anatomy Behind Plantar Fasciitis
To effectively understand what the term "Plantar Fasciitis" means, we first have to understand what the plantar fascia band is and where it is located.
The plantar fascia band is a band of thick, connective tissue that spans along the bottom of the foot from the area of the heel bone to the ball of the foot.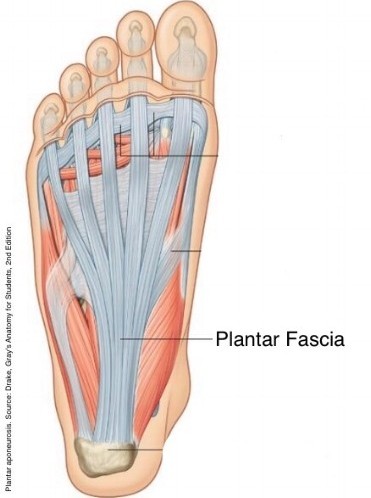 When you stretch your toes up towards your nose, you can also see your plantar fasciial band through the skin. Go ahead… give it a try! You should see something like this: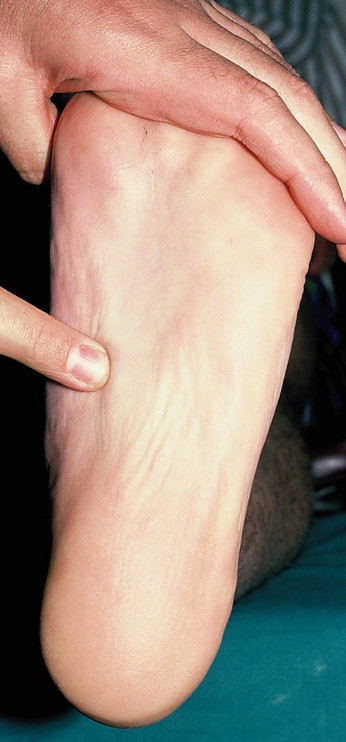 This strong plantar fascia band (that you should be looking at now) plays a critical role in our feet. It functions to support the arch on the bottom of the foot and prevent its collapse due to the weight of our bodies.
Did you know that the average adult tends to take anywhere from 5,000 – 10,000 steps per day and that this band is strong enough to support our weight, yet elastic enough to withstand the impact of the force of each step?
Pretty amazing, right?
Think of the plantar fascia band as a bowstring that absorbs shock. See the importance?
Now you will be able to better understand exactly what plantar fasciitis is.
---
What is Plantar Fasciitis?
Simply put, Plantar Fasciitis is a condition that results when the plantar fascia becomes inflamed. Let's talk about this in a little more detail to make sure you have a better understanding.
When the plantar fascia band is tensed, or overstretched, (for reasons that we will discuss later) tiny little tears occur within it. These "microtears" most commonly occur at the weakest area of the plantar fascia band, which is close to where it attaches to the heel bone.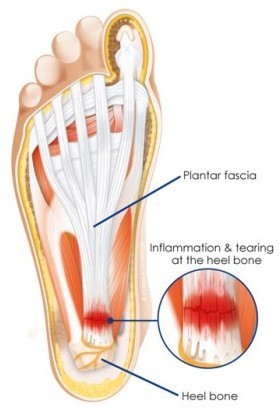 Once microtears are present, this band begins to get irritated and inflammation results. This, in turn, causes it to become even more tense and it reacts by wanting to contract, or ball-up, in a sense.
For quick clarification purposes, I would like to stress right now that Plantar Fasciitis is NOT caused by a heel spur. This is so very often misconstrued. A heel spur may develop in conjunction with this condition as our bodies naturally create calcium deposits to the area in an attempt to support the damaged plantar fascia band, but these two conditions do not always go hand-in-hand.
---
What Causes Plantar Fasciitis – Are You At Risk?
Now that you should have a pretty good understanding about exactly what Plantar Fasciitis is, who gets plantar fasciitis?
The easy answer to this question is that ANYONE can develop it; but, generally speaking, Plantar Fasciitis most often occurs in an active man or woman between the ages of 30-60 with the highest occurrence in women.
In addition, there are certain activities/actions that can put you at a greater risk.
Obesity/Pregnancy
You are at a greater risk for Plantar Fasciitis when you are obese, or overweight… especially if there was a sudden weight gain. Why?
When a person rapidly gains weight, our plantar fascia band is subject to an increased work-load without having time to adapt to it.
This is commonly supported by pregnant females who suddenly develop this condition near the end of their pregnancy.
Extreme Physical Activity
Extreme Physical Activity can take many shapes and forms, but does put you at an increased risk to develop Plantar Fasciitis.
Does your job require you being on your feet for hours on end (such as a factory or restaurant worker)? Are you a long-distance runner?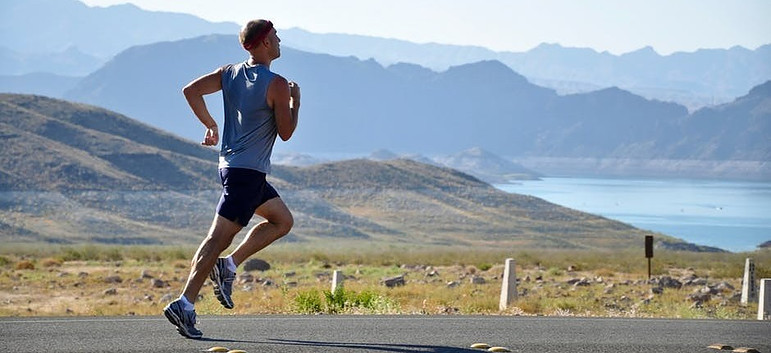 Moderate physical activity is definitely recommended several times per week for our overall health, but putting our bodies in extreme stress regularly can often do more harm than good.
Structural Foot Deformities
Do you have a high-arched foot, or are you flat-footed? Is your Achilles Tendon tight? Add yourself to the increased risk category!

Improper, or Ill-Fitting Shoegear
Ladies… are you guilty of sporting those red bottoms or other high-heeled shoes on a regular basis?
Any shoe with soft soles or inadequate arch support is definitely a risk factor for the development of Plantar Fasciitis. And believe me… once you develop it, NOTHING is worth the pain!
Your selection of shoegear should be based upon the shoe's ability to provide good support and fit well, not merely as a fashion statement.
---
What About Plantar Fasciitis Symptoms?
We can't effectively discuss Plantar Fasciitis without reviewing the symptoms most commonly experienced by those suffering from this condition, now can we?
Some of the most common signs/symptoms associated with Plantar Fasciitis include the following: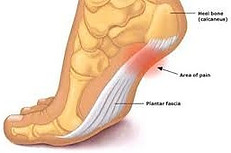 Stabbing-type pain on the bottom of the foot close to the heel bone.
Pain on the bottom of the heel area upon rising after sitting or laying for an extended period of time that improves some with walking. The most intense pain is usually experienced on the first step out of bed in the morning.
Pain on the bottom of the heel that occurs immediately following exercise rather than during exercise.
---
How is Plantar Fasciitis Diagnosed?
Typically, I (as well as other physicians) can diagnose Plantar Fasciitis via a medical history and thorough physical examination of the foot.
For the medical history, I always ask questions similar to the following:
What is the nature of the pain? (Heel Pain)
Where specifically on the foot is the pain located? (I have them point to the specific area where they are experiencing the pain.)
How long have you been experiencing the pain? (Days, Weeks, Months, Years)
Did the pain begin suddenly (possibly following an injury) or has it developed gradually?
Describe the characteristics of the pain. (Aching, Burning, Stabbing, Throbbing, Dull, Sharp)
What time of day is the pain the absolute worst? (First step out of bed in the morning)
What makes the pain better or worse? (Activity vs. rest)
Have you ever had a similar condition before? If so, what helped it improve?
Have you tried any at-home treatments to provide relief? If so, what did you do and did it work?
My physical examination for Plantar Fasciitis is pretty straight forward.
I typically palpate (or feel) the bottom of the foot to locate the area of tenderness.
In addition, I will have my patient flex their foot and push along the plantar fascia band. Typically, pain is experienced during this in Plantar Fasciitis. I will then instruct the patient to point their toes. Pain generally subsides with this motion.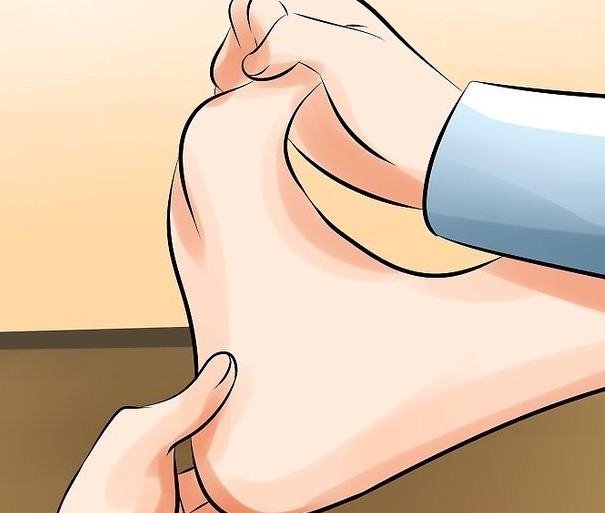 I also examine the area for any swelling or mild redness.
Lastly, I evaluate muscle strength and nerve health via testing the following:
Balance and coordination
Sense of touch
Reflexes
Radiographs (a.k.a. x-rays) and other imaging studies are rarely required for a diagnosis of Plantar Fasciitis unless they are utilized to rule other conditions out.
---
What About Plantar Fasciitis? – Final Thoughts
It is imperative to recognize and fully understand where your heel pain is coming from in order to quickly implement the most efficient means of treatment to eliminate your pain.
I truly hope that I helped you either confirm or eliminate your suspicion of Plantar Fasciitis involving you or your loved one.
As always, I welcome any comments below including either questions or your experience with this condition. I truly am here to help!
Your Online Foot Expert,
Dr. Misty
Podiatric Physician and Owner/Creator of FixUglyNails.com