Summer time is quickly approaching.
Are you ready to bare your feet OR are you in panic mode wondering what you can do to minimize the appearance of ugly, overlapping toes?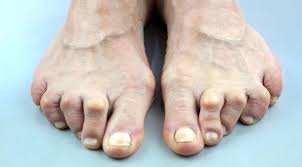 No worries… if you do fall into that latter category and are suffering from crooked toes, I can help!
Did you know that there are non-surgical options to achieve better-looking, healthier feet… even if you are already suffering from crooked, overlapping toes?
Below, I would like to discuss not only the benefits of a little product called a toe separator, but also recommend my absolute favorite toe separators for overlapping toes.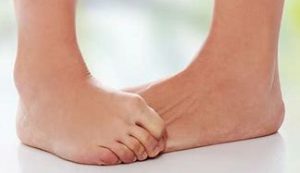 You will be amazed at how such a small, economical device can, over time, save you from not only the embarrassment of being blessed with imperfect feet but also relieve the pain and complications associated with overlapping toes from conditions such has corns and calluses, hammertoes, bunions and many other foot deformities.
---
Why Do Our Toes Become Crooked and/or Overlap?
We have already established your problem… crooked, overlapping toes.
Before we establish what toe separators are and how they are used to correct overlapping toes, you need some background on exactly how and why you develop crooked, bent toes.
Let's think about this…
Most of us wear tight shoes the majority of the time… which, by the way, is the most common culprit of toe deformities.
Let me explain…
When our feet are crammed into most shoegear, it forces our toes to bend. This bending places and holds our toes at unnatural angles.

Over time, these unnatural, bent angles force the tendons and ligaments of the toes to accept these new angles as "normal" and they begin to contract, or shorten and permanently assume this new, deformed position.
As a result of the tendons becoming too short and tight, the development of not only foot deformities such as hammertoes and bunions but also painful corns and calluses begins to prosper.
Well… the solution to your problem is a little product called a toe separator.
---
What are Toe Separators and How are They Used for Overlapping Toes?
What actually is a toe separator?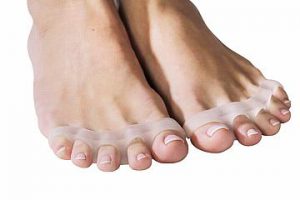 Toe separators are small devices made of medical-grade gel that, when placed between the toes, have the ability to spread, stretch and exercise the joints, ligaments, tendons and muscles of the toes via lifting and separating them.
This, in turn, stimulates the toes to "uncurl" and will reverse many years of damage to your feet by re-structuring your feet to their original alignment.
How can this be possible?
With the use of toe spacers/separators, your feet are held in a more anatomically correct alignment.
With consistent use of toe separators, over time, the intrinsic muscles, tendons and ligaments that were once forced to contract are gently stretched, slowly lengthened and any adhesions that were formed are broken down.
This increase in strength and flexibility encourages the toes to uncurl thus minimizing not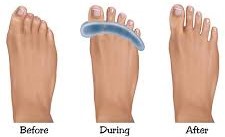 only the appearance of crooked toes and other foot deformities via assuming a more natural, optimal shape, but also reverses the numerous complications that result from these deformities.
Our feet are now able to resume their more natural position which makes walking and other physical activity far more comfortable.
Sounds pretty amazing, right?
I mean… we are talking about a safe, simple, cost-effective and natural, non-surgical solution to fight the appearance of ugly feet and toes!
You absolutely cannot beat that!
---

---
What are the Benefits of Utilizing Toe Separators for Overlapping Toes?
With the recent craze over toe separators for overlapping toes, more and more studies have been performed on the effectiveness and benefits of their use.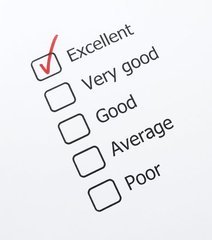 Initially, toe separators were typically viewed as a money-making gimmick, but… after researching the effects and benefits of the long-term use of these simplistic products, they have gained much respect within the medical community and now are often recommended by not only podiatrists, like me, but by many professionals in all fields of medicine.
Some benefits found via the use of toe separators for overlapping toes include, but are not limited to, the following (in no particular order):
Prevents toe pain caused by the toes rubbing against one another
Relieves general foot pain via toe strengthening
Prevents the formation of corns caused by constant friction when the toes rub against each other
Improves the overall appearance of the feet (the aesthetics of foot structure)

Aids in the correction and prevention of foot deformities such as hammertoes and bunions, among others by improving the function of the intrinsic muscles of the feet and toes
Realigns joints and straightens bent toes by increasing the flexibility and length of the toes

Improves balance
Improves gait cycle (the way that you walk)
Improves posture by improving "grounding" of the feet

Allows the planting of all toes on the floor which enables you to stand upright without tension or strain

Improves circulation to the feet and toes
---
What Conditions can Toe Separators Actually Help to Treat?
Toe separators were designed primarily to help with painful conditions such as bunions,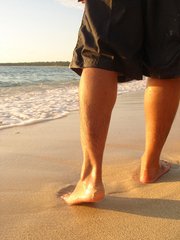 hammertoes, claw toes, and mallet toes which cause the toes to bend and curl at unnatural angles, but when a portion of the foot is out of alignment, we have found that the whole body suffers.
One small toe deformity negatively impacts your ability to simply walk, jog, run and participate in any other physical activities without pain.
Did you know that improper "grounding" of the toes also wreaks havoc on your gait cycle (the way that you walk) as well as your body's capability to bear weight?
Believe it or not… our toes can have a major impact on our whole body!
Having stated all of this, when you look at the big picture, toe separators can have a dramatic, positive influence on our bodies in its entirety both directly and indirectly.
The deformities in which toe separators have a direct influence on correcting include the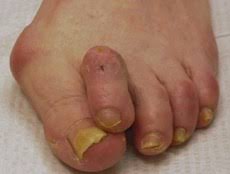 following:
Hammertoes
Mallet toes
Claw toes
Bunions
The conditions which can indirectly benefit from the use of toe separators are:
Blisters,
Ingrown toenails,
Cramps,
Neuromas,
Metatarsalgia,
Plantar Fasciitis (Heel Pain),
Arthritis,
Abnormal gait cycle,
Shin Splints,
Knee pain and injury,
Hip pain,
Back pain and injury,
Poor posture,
Balance issues and
Poor circulation.
---
Why Use Toe Separators for Overlapping Toes?
If you look at the treatment options for overlapping toes, you will be surprised at the lack of options available.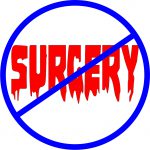 Basically, you will find that two options for treatment are currently available: surgery or toe separators.
Why on Earth would you succumb to surgical correction when there is a much easier alternative out there?
The main reasons that I, as a podiatrist, recommend toe separators for overlapping toes over surgery include the following:
Simplicity – Toe separators are comfortable and very easy to use.
Affordability – When you compare the cost of my absolute favorite toe separators, YogaBody Awesome Toes! Corrective Spacers, at a mere price of $24.99 to all the costs associated with surgery, you can easily see that these toe separators are the most cost-efficient option for the treatment of overlapping toes.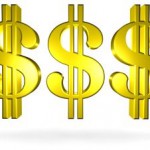 Economical – For the price noted above, you receive two pairs of YogaBody Awesome Toes! Corrective Spacers each in a separate size to ensure a perfect fit. Each pair is completely reusable and will last year after year.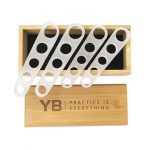 Safety Factor – When you consider the risks associated with surgical correction, you can easily see why toe separators for overlapping toes are extremely less risky and a much safer alternative for treatment.
Flexibility – Toe Separators can be used daily with no side effects. In addition, while most toe separators, such as YogaToes GEMS, are made to be worn solely without shoes, YogaBody Awesome Toes! Corrective Spacers are made to be worn both with and without shoes which allows you the convenience of treating your deformities literally whenever you want.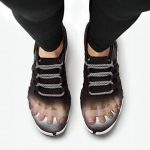 ---
 How are Toe Separators for Overlapping Toes Used?
Some toe separators are made to be worn while ambulating, or walking, therefore holding your toes in place while wearing shoegear, and others are made to be used while relaxing and non-weightbearing.
My favorite toe separators, YogaBody Awesome Toes! Corrective Spacers, can be worn while walking or relaxing thereby increasing the functionality of the product!
When I recommend toe separators to my patients, I give them very specific instructions.
Initially, I suggest a very slow start. You will have to get your feet accustomed to functioning in an anatomically correct alignment.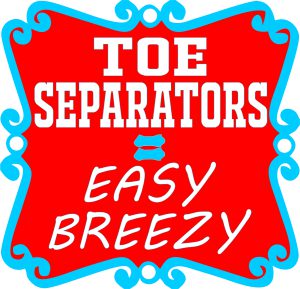 1. At first, wear your toe separators about 15 minutes per day. Should you notice any discomfort such as pain or cramping, decrease this time by 5 minute intervals.
2. Repeat this time interval daily for one week and then increase the time worn per day to 30 minutes.
3. As long as no discomfort is experienced, repeat daily for one week and then increase the wear time to 45 minutes per day.
4. Continue this cycle of increasing the time interval worn by 15 minutes on a weekly basis.
For best results, you want to gradually increase the time worn to a minimum of one hour per day. Some of my patients have worked up to wearing their toe separators for four + hours daily with drastic improvements in their deformities.
---
Final Thoughts on Toe Separators for Overlapping Toes
Suffering from crooked, bent toes is not only embarrassing and possibly painful, but it can affect the efficiency of the way your whole body functions.
Why suffer from this condition when there is an easy, safe and affordable solution to your problem?
The benefits of the use of toe separators for overlapping toes has been proven not only via research but I have witnessed them with my own eyes on hundreds of my personal patients.
Stop fighting ugly, bent toes and invest in the best toe separators for overlapping toes now!

The quicker you click to buy, the quicker you will be on your way to happy, healthy feet!
I hope that you have gained the knowledge that you were searching for in reading this article. I am ALWAYS here to help… it is what I love doing. Should you have any questions, experience with overlapping toes, or have products that you love for this condition, please feel free to comment below.
Your Online Foot Expert,
Dr. Misty
Podiatric Physician and Owner/Creator of FixUglyNails.com